It's one of 2018's most anticipated indie games, but did you know its roots lead straight back here to Austin? Come find out what we mean Thursday, April 5th, at 7:00PM at Austin's North Door, as JUEGOS RANCHEROS presents a brief history of MINIT, the 60-second adventure game.
[ RSVP FOR THIS EVENT AND INVITE YOUR FRIENDS ON FACEBOOK BY CLICKING HERE! ]
Created by Kitty Calis, JW Nijman, Jukio Kallio & Dominik Johann — a supergroup collectively known for their work on games like Nuclear Throne, Horizon: Zero Dawn, Luftrausers, and Dr. Langeskov — Minit sees players trying to lift a mysterious curse which ends each day after just one minute.
Due for PC, PS4 and Xbox One release on April 3rd, from Austin's own Devolver Digital, we'll be giving Austinites the opportunity to experience those minute-long loops themselves, alongside a short introduction about the making of the game, as well as a selection of other games from its creators.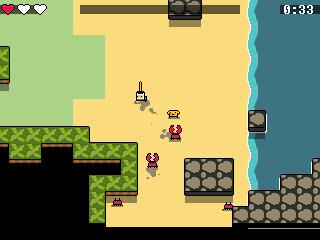 Just how exactly does Adventure Time fit in to the game's past? Be sure to join us Thursday, April 5th, at 7:00PM at North Door, 501 Brushy Street, Austin, TX 78702 to find out!
A short introduction begins at 8:00PM. The show is free, all ages, and open to all the public, so come join us as we drink, play and meet the people changing the way we think about games!
---