If you thought the Adventure Time Game Jam was going to be hard to top, we might just have done it: organizers of Fantastic Arcade have just announced the Barfcade Game Jam, a two-week jam open to developers world wide to create a ton of two-player head-to-head games based on food, cooking, eating and (obviously) barfing.
Why barf and why now? Fantastic Arcade's special guest this year will be Thu Tran, frequent Babycastles collaborator and creator of the super amazing cooking/puppet show Food Party (above) and its MTV2 followup Late Night Munchies.
Thu will be providing the special secret ingredient required in all the jam games, which will be announced just before the jam begins on Saturday, August 30th, and will be co-hosting the Barfcade proper, a live game-show event held on September 21st that will be streamed for the rest of the world to see on Venus Patrol's Twitch channel.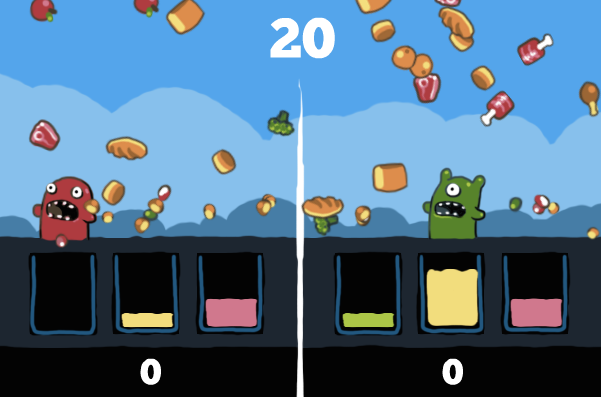 Games for the jam are meant to be fast, competitive, and no longer than 30 seconds each — the best of these will be strung together for the Barfcade event, giving the live competition a sort of head-to-head WarioWare vibe. Canabalt creator Adam Saltsman has created a brand new example game (pictured above), which you can play at the Barfcade website to get a sense of where to head!
The jam will run Saturday, August 30th through Sunday, September 14th — more details are available at the Barfcade site, which will be where you can also find the secret ingredient at launch. Can't wait to see what you come up with!
---