Want to spend your Thursday night wrestling a pitbull to the ground & high-fiving a pizza as you lose yourself in a 'giddy apocalypse'? Then come join us this Thursday, October 2nd, at 7:00PM at Austin's North Door as we present the local double-feature premiere of Kevin Cancienne's local multiplayer dog-em-up Dog Park & Jane Friedhoff's Slam City Oracles.
[ RSVP FOR THIS EVENT AND INVITE YOUR FRIENDS ON FACEBOOK BY CLICKING HERE! ]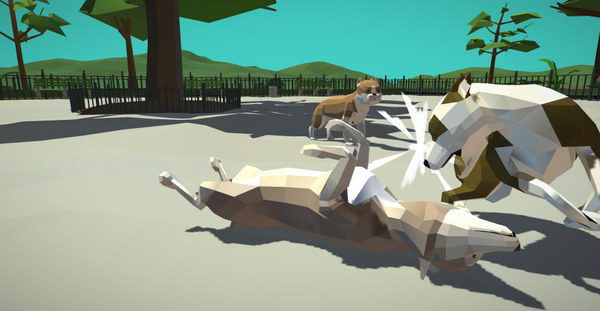 Developer Cancienne — also known for his design work on area/code's early classic iPhone puzzle game Drop7 — has described Dog Park as "a fighting game without the fighting", a four-'person' brawler where players choose their dog & score points for chasing, wrestling, cavorting & gamboling in perfectly-pitched canine fashion.
Various JUEGOS RANCHEROS organizers have also described it as "omg the best game ever".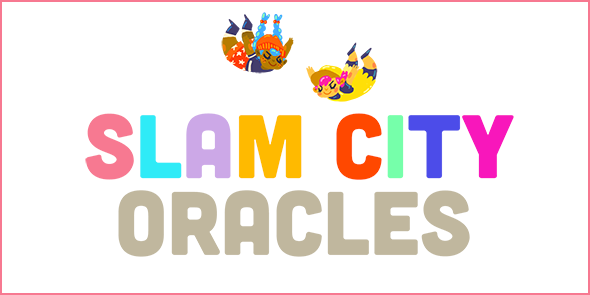 In addition to Dog Park, we'll also be showing Slam City Oracles, a two-player body-slammer by Jane Friedhoff, with art by Jenny Jiao Hsia & music by Prophets & Kings.
Already drawing a number of favorable comparisons to Katamari Damacy from sites like Kotaku for its cheerfully chaotic cartoony slapstick physicality, Oracles is a vertically-oriented game where two girls have four minutes to joyfully & wantonly break the entire world around them.
Both games were commissioned for the NYU Game Center's No Quarter exhibition — the yearly local-multiplayer focused show which has spawned games like Nidhogg, Bara Bari Ball & Bennett Foddy's Speed Chess — and were first debuted there September 19th, alongside Naomi Clark's consensual card game Consentacle and Corporate Vandals, a physical game from Shawn Allen, creator of Treachery in Beatdown City.
Both games will be making their local debut Thursday, October 2nd, at 7:00PM at North Door, 501 Brushy Street, Austin, TX 78702! The show is free and open to all the public, so come join us as we drink, play and meet the people changing the way we think about games!
---