It's the final JUEGOS RANCHEROS meetup of 2017, but we're finishing strong! Be sure to join us Thursday, December 7th, at 7:00PM at Austin's North Door, as JUEGOS RANCHEROS presents new games from the creators of Towerfall and Starseed Pilgrim!
[ RSVP FOR THIS EVENT AND INVITE YOUR FRIENDS ON FACEBOOK BY CLICKING HERE! ]
Due for release in January on Nintendo Switch, PlayStation 4, XBox One, and Steam, Celeste is the latest game from Towerfall creator Matt Thorson, alongside Noel Berry, Amora Bettany, Pedro Medeiros, Lena Raine, and Power-Up Audio!
The team describe the game as a "hardcore mountain-climbing platformer", which originally was developed over just 4 days for the low-bit "fantasy console", Pico-8. You can try that version in your browser here, and you won't believe how far it's come since then!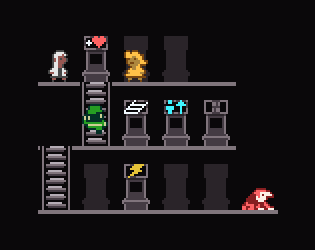 In addition to that, we'll also have the local debut of Inconsiderate Climbers, a 4-player cooperative/competitive game from Droqen, 1/4th of the indie-dev supergroup Gloam Collective, and creator of the hugely beloved puzzle platformer Starseed Pilgrim.
Created for the recent No Quarter exhibition at NYU's Game Center, Inconsiderate Climbers starts from a traditional arcade/action foundation, but with one twist — when one player dies, they must pass their controller to a new player. Come see why it was a No Quarter favorite!
You can play both of these games and more Thursday, December 7th, at 7:00PM North Door, 501 Brushy Street, Austin, TX 78702, with a short introduction at 8:00PM. The show is free, all ages, and open to all the public, so come join us as we drink, play and meet the people changing the way we think about games!
---