JUEGOS RANCHEROS is excited to share HOT LOCAL FLAVORS, a collection of upcoming and recently released games created in and around our very own Austin, Texas. Join us this Thursday, August 2nd, at 7:00PM at Austin's North Door for a look at Red Star Azimuth, The Indie Game Legend 3D, Imperishable Memories, and more!
[ RSVP FOR THIS EVENT AND INVITE YOUR FRIENDS ON FACEBOOK BY CLICKING HERE! ]
We're mesmerized by the visual landscape in Red Star Azimuth. Manuela Malasaña is creating a first person hacking puzzle game with am 80's vaporwave aesthetic. Manuela has been posting some stunning images on her twitter feed. Come see why we're hyped at getting a first look of the memory prism inside of "Vaporland".
https://www.youtube.com/watch?v=VlGIQqdQepA
Continuing in first person perspectives, we're excited to show Jeff Lindsay's The Indie Game Legend 3D. A cult-classic dungeon shoot em 'up created during the early days of the TIGSource forum is reimagined and expanded as a first-person shooter-vania. Come learn the history and explore the future of this underground labyrinth. Try to rescue captured indie game creators in this quirky underground adventure.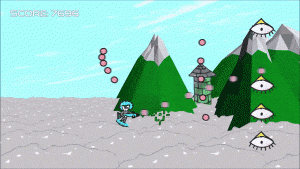 Previous Juegos Rancheros artist resident Jennifer Raye returns! We're excited to show the near-final release of her Imperishable Memories. Journey through this narrative shoot 'em up and explore unforgotten emotions and experiences. Can you grab a hold of the past…or perhaps enemies on your way?
All of these local developers will be here to show off their latest creations. Come say hi!
We'll be showcasing all these games and more Thursday, August 2nd, at 7:00PM at North Door, 501 Brushy Street, Austin, TX 78702, with a short introduction at 8:00PM. The show is free, all ages, and open to all the public, so come join us as we drink, play and meet the people changing the way we think about games!
---