Ever thought about taking things a step further with a canine friend? Then join us Thursday, June 4th, at 7:00PM at Austin's North Door as JUEGOS RANCHEROS presents Hot Date, the world's first game about speed-dating a series of sincere but highly opinionated pugs.
[ RSVP FOR THIS EVENT AND INVITE YOUR FRIENDS ON FACEBOOK BY CLICKING HERE! ]
Just released by UK developer George Batchelor, and already taking the dog-lover/game-lover venn-diagram-overlap by storm, Hot Date puts you in the hot seat across the table from a prospective match and gives you a couple minutes to pry out their likes, dislikes, and hopes for the future.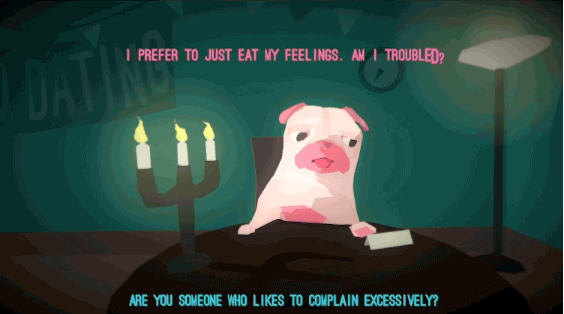 Don't like who you've been paired with? Suddenly reached a dealbreaking impasse about jazz? Hang in there, swig another drink, and a new date will be just around the corner.
Hot Date will be playable Thursday, June 4th, at 7:00PM at North Door, 501 Brushy Street, Austin, TX 78702, along with some other assorted & related works! The show is free and open to all the public, so come join us as we drink, play and meet the people changing the way we think about games!
---